The Spirit, The Bible & Women
The Premier Course about Biblical Womanhood & Manhood
for Bible-Believing, Spirit-Led Men & Women

Taught By Dr. Susan Hyatt
and
Dr. Eddie Hyatt

THIS THROUGHLY DOCUMENTED COURSE INCLUDES
Textbook & Study Guide
(Available upon request for a suggested gift of $25 + s/h),
PLUS 20 Lectures
(Click to View. No tuition fee. Gifts encouraged.)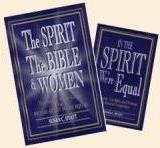 Session 1 (50min 109MB) - March 3, 2008


Session 2 (67min 141MB) - March 3, 2008


Session 3 (66min 141MB) - March 10, 2008


Session 4 (72min 153MB) - March 10, 2008


Session 5 (59min 125MB) - March 24, 2008


Session 6 (51min 110MB) - March 24, 2008


Session 7 (57min 123MB) - March 30, 2008


Session 8 (57min 124MB) - March 30, 2008


Session 9 (51min 108MB) - April 7, 2008


Session 10 (61min 131MB) - April 7, 2008


Session 11 (67min 144MB) - April 14, 2008


Session 12 (52min 112MB) - April 14, 2008


Session 13 (61min 130MB) - April 21, 2008


Session 14 (68min 146MB) - April 21, 2008


Session 15 (52min 110MB) - April 28, 2008


Session 16 (65min 138MB) - April 28, 2008


Session 17 (78min 165MB) - May 5, 2008


Session 18 (52min 110MB) - May 5, 2008


Session 19 (68min 145MB) - May 12, 2008


Session 20 (37min 79MB) - May 12, 2008
COURSE PHILOSOPHY & THESIS
Traditional church doctrine on women is rooted in Aristotle, Augustine, Aquinas and Calvin, and is built on the premise that women are evil, inferior, unequal & unclean. The Bible, accurately understood, teaches that women are equal with men in terms of substance & value, privilege & responsibility, function & authority. This is taught by Jesus, Paul and Genesis, as well as by the activity of the Holy Spirit.
---
For further consideration ...
PERSONAL BIBLE STUDY
This course is an enriching personal Bible study or great personal preparation to teach the Biblical truth about men & women, headship & submission, marriage & leadership, as well as inspiring studies of God's women. The Hyatts will be available to interact by email with you as you study at your own pace.
GROUP BIBLE STUDY
This course can also be used in a Home Bible Study Fellowship, a Sunday School Class, or a Bible School Course. In such cases, the Hyatts can provide additional assistance as needed.
CERTIFICATE OF COMPLETION
Students can earn recognition upon successful completion of the course requirements as outlined in the course syllabus.
MISSIONARY SPONSORSHIPS
Friends are invited to sponsor the course in places around the world where Internet access is not available. A course package, including the textbook, manual, handouts, and DVD/CD/MP3 format can be sent for a sponsoring gift of $100.
HOW TO ORDER BOOKS & HOW TO GIVE TO SPONSOR
1. Regular Mail. Checks should be made out to HIM, Inc. and mailed to
Hyatt House, P.O. Box 3877, Grapevine, TX 76099-3877

2. Internet Mail.